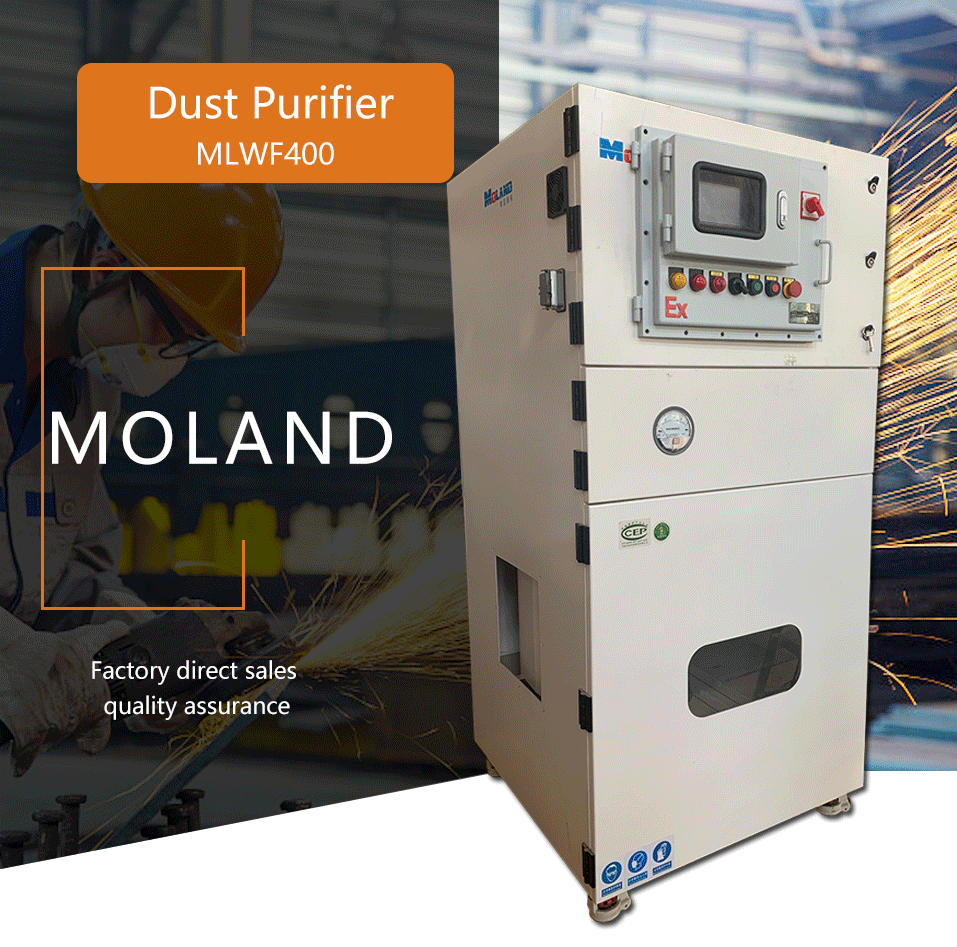 As a common metal fabrication process, welding presents serious health concerns, since many weld fumes contain toxic metals. The extreme heat involved in welding creates fumes with metal particulates less than a micrometer in diameter. When toxic particulates are inhaled, their small size allows them to travel deep into the lungs and be absorbed into the body. Hexavalent chromium is a good example of a commonly produced and dangerous weld fume particulate. This substance is a known carcinogen. Without a fume collection system in place, workers are at risk throughout an entire facility.

Our MLWF400 PLC Industrial Dust Collector is equipped with flame-retardant coated polyester fiber filter element, which makes sure the filtering accurracy comes to o.3um; and expolsion-proof device, which prevents explosion because of the welding fumes and combustible dust.
This MLWF400 Welding Fume Exhaust System is suitable for welding fume, cutting fume dust, laser welding cutting fume, plasma cutting fume, polishing dust, drilling dust, mixing and cutting materials to produce dust.

1- Integral structure with Fuma wheel at the bottom, flexible movement and fixing.
2- Anti-suction device to make the effect of ash cleaning more thorough.
3- Power supply condition monitoring: alarm of fault phase overvoltage and undervoltage to prevent motor and electrical components from damage.
4- Pressure condition monitoring: alarm for low pressure incomplete dust cleaning.
5- Pressure differential gauge shows the working state of filter element intuitively, and automatic pulse back blowing with excessive pressure difference.
6- Operation temperature monitoring: alarm system temperature is too high to prevent fire.

1- Filtration efficiency (>99.9%) of main filter core (imported coated polyester fiber)
2- Fault phase protection, overload protection, air pressure monitoring and temperature monitoring devices
3- PLC intelligent control system
4- Tricolor lamp
5- Differential pressure gauge
6- Observation window
7- 60L dust collection drawer
8- Left and rear three-sided air intake (dia.300-200)
9- 10m power cord
10- Spark trap (large particle dust pre-filter)

Welding workstation (3m*2.5m*4m)
Special machine for ring and straight welding
Large continuous workload conditions, such as intersection wire cutting

Power

3KW

Spare Parts List

Voltage

380V 50Hz

Main Filter Element Dia.325*660mm

Suction Arm Dia.200*2000mm

Suction Arm Dia.200*3000mm

Spiral Duct GD300

Suction Hood Mouth ZK2015

Arc Blind Curtain PL200

Air Volume

3500·4500m3/h

Accuracy

0.3um

Filter Material

Imported flame retardant coated polyester fibers

Filter Area

44m2

Filter Size

Dia.325*660mm (4 branches)

Cleaning

Pulse Back Blow

Noise

75dBA

Size

985*960*2080mm

Weight

310kg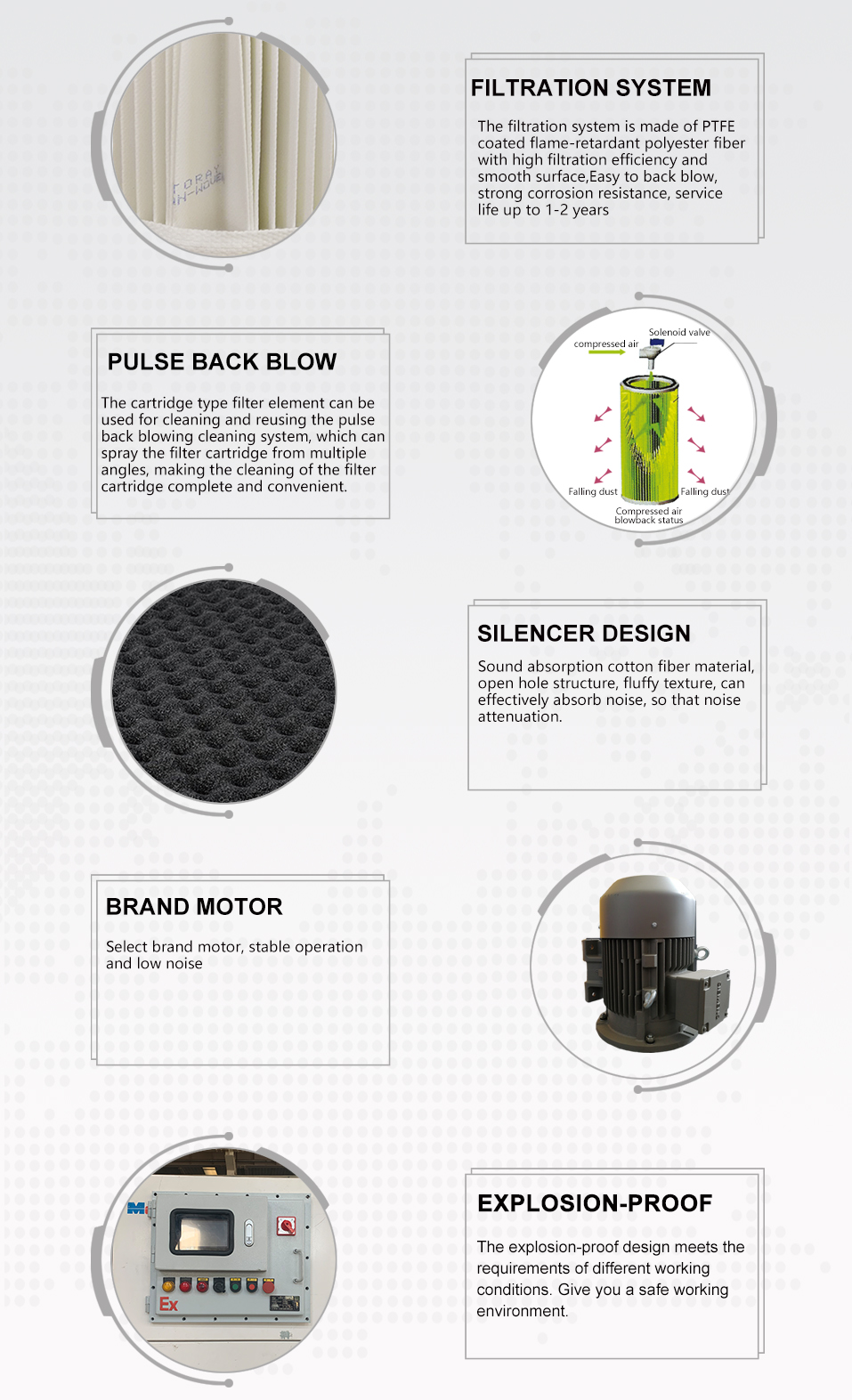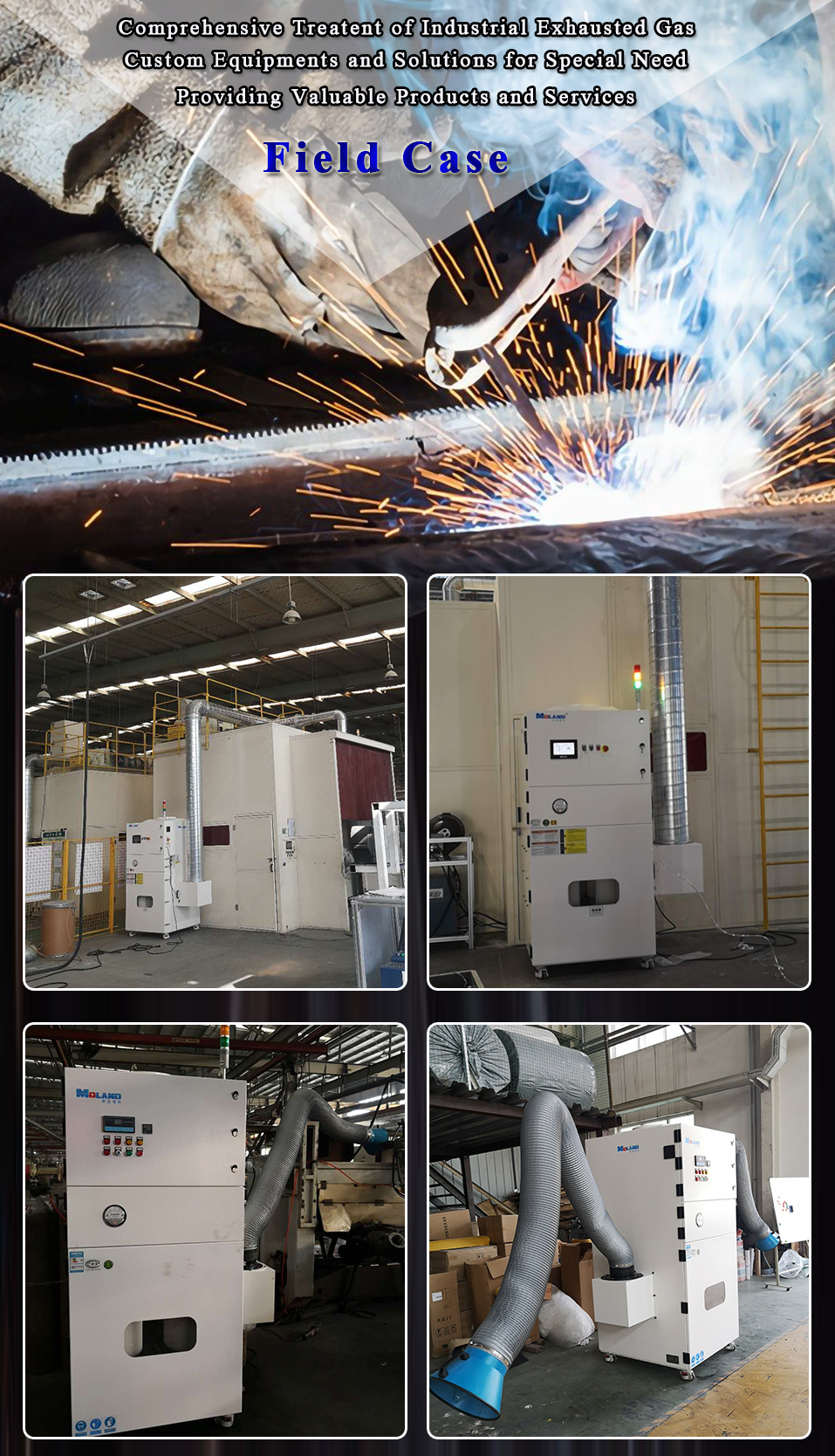 Moland is a professtion manufacurer of industrial dust collection system. We mainly supply Mobile Fume Extractors, Industrial Dust Collectors, Welding Fume Exhaust System, CNC Cutting Smoke Extractors, Polishing Downdraft Tables, Laser Marking Fume Extractors, etc. We have professional technical team to design the most suitable dust collection solution according to your workshop condition.