We have many years on carburetor for sale

NEW REPLACEMENT CARB/CARBURETOR FOR ENGINE 21100-73430
WE ARE A LEADING SUPPLIER AND EXPORTER OF AUTO CARBURETOR, SUPPLY FULL RANGE OF ITEMS
AUTO CARBURETOR 21100-73430 FOR NISSAN H2 TOYOTA 3Y
HIGH PERFORMANCE JAPANESE ENGINE CARBURETOR PARTS FOR TOYOTA 3Y 21100-73430
USED ON TOYOTA (PRADO, REIZ, COROLLA, CAMRY, SIENNA),NISSAN
SPECIFICATION
| | |
| --- | --- |
| ZOWO NO. | ZWJC-001-CBRB |
| OEM NO. | 21100-73430 |
| ENGINE NO. | TOYOTA 3Y |
| USED ON | Hiace 83-95 |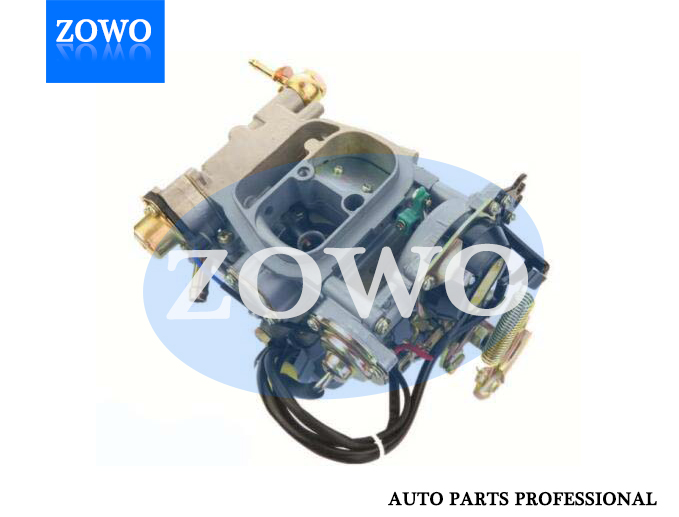 1) Auto Carburetor description
Carburetor is a device that blends air and fuel for an internal combustion engine. you know that the idea behind an engine is to burn gasoline to create pressure, and then to turn the ­pressure into motion. A remarkably tiny amount of gasoline is needed during each combustion cycle. Something on the order of 10 milligrams of gasoline per combustion stroke is all it takes!
2). Why Auto Carburetor out of work?
T­he goal of a carburetor is to mix just the right amount of gasoline with air so that the engine runs properly. If there is not enough fuel mixed with the air, the engine "runs lean" and either will not run or potentially damages the engine. If there is too much fuel mixed with the air, the engine "runs rich" and either will not run (it floods), runs very smoky, runs poorly (bogs down, stalls easily), or at the very least wastes fuel. The carb is in charge of getting the mixture just right.
We can offer you the carburetor with various brand for suzuki ,for Isuzu, for Toyota, for Nissan,for Mazda, for benz,for Chrysler,for Honda,for Bedford,for Mitsubishi, for Hino,for Ford,for Detroit ,for VW,for RENAULT,for Volgafor,for Dudge,for Peugeo,for
Lada,for futura etc.
We are a leading supplier and exporter of auto carburetor, Supply full range of items as below: DAIHATSU S75 21100- 87766 DAIHATSU S89 21100- 87134 DAIHATSU 13200- 80322 FORD A605 LADA 2105- 1107010- 20 LADA 2107- 1107010- 10 LADA 2108- 1107010- 10 LAND ROVER 361V MAZDA NA 1942- 13- 600 MAZDA E301- 13- 600 MAZDA E301 MITSUBISHI 4G32 MD- 006219 MITSUBISHI 4G33 MD- 181677 MITSUBISHI 5XFB MITSUBISHI L300 DELUXW MD- 081100 MITSUBISHI L300 OLD MD- 076304 MITSUBISHI T/ 120 MD- 011057 MITSUBISHI T/ 120SS MD- 172818 NIKKI 3Y NIKKI 711(4Y) 16010- NK711 NISSAN A12 16010- H1602 16010- H1400 NISSAN A14 16010- W5600 16010- G2100 NISSAN A15 16010- G5211 NISSAN H20 16010- J0502 NISSAN H20 JUNIOR 16010- J0500/ 0101 NISSAN J15 16010- B0302 NISSAN J16 16010- B5910 NISSAN L18 Z20 16010- 13W00 NISSAN NA20 1942- 13- 600 NISSAN Z20 16010- 22C00 16010- 26G01 NISSAN Z24 16010- 21G61 NISSAN Z24 16010- J1700 PEUGEOT PG404 PG504 PEUGEOT PG505 E14185 PROTON SAGA MD- 192036 PROTON WIRA MD- 192037 SUZUKI ALTO SUZUKI EXTRA T5 13200- 77320 SUZUKI F10A 13200- 85231 SUZUKI F8A 13200- 79250 SUZUKI FUTURA 13200- 77500 TOYOTA 21R 21100- 35460 TOYOTA 2RZ TOYOTA 3RZ TOYOTA 12R 21100- 31410/ 11 TOYOTA 12R 21100- 31225 TOYOTA 1RZ 21100- 75020/ 21 21100- 75030 TOYOTA 1Y 3Y 21100- 71070 TOYOTA 1Y 3Y 21100- 71080 TOYOTA 22R 21100- 35520 TOYOTA 2E 21100- 11190 TOYOTA 2E HA132 TOYOTA 2F 21100- 61012 TOYOTA 2Y 21100- 71081 21100- 71070 TOYOTA 3F 4F 21100- 61300/ 200 TOYOTA 3Y 21100- 73430 21100- 71081/ NK466 21100- 71080 TOYOTA 4AF 21100- 16540 TOYOTA 4K 21100- 24035/ 34/ 45 TOYOTA 4K 21100- 13170 TOYOTA 4Y 21100- 75030 TOYOTA 4Y 21100- 73230 TOYOTA 4Y 21100- 73231 TOYOTA 5K 21100- 13420 TOYOTA 5M 21100- 43050 TOYOTA 7K HB070 TOYOTA KIJANG GRAND 21100- 13750/ 1 TOYOTA TOYOTA V. W. PASSAT W- 450408
Many other(Carburetors) Models available for Different Cars and Trucks like Mitsubishi, Nissan, Suzuki, Daihatsu, Mazda, Lada, Peugeot, Landrover, Proton, Daewoo, Volkswagen Passat etc.
Please don't hesitate to contact us for more detailed information


NINGBO ZHONGWANG AUTO FITTINGS CO.,LTD are professional supplier in exporting auto parts, and we have built good business relationship with customer from more than 50 countries. Our main product include engine systerm,fuel syster,fitler systerm,ignition systerm,brake systerm,body&accessores.As good service and best quality with reasonable price , we have exported the auto parts for 20 years.


We also provide Other Auto Parts, such as:Starter Motor, Car alernator,Power Steering Pump ,Water Pump, Water Tank etc