Because the accuracy of cnc router machine is greatly depends on the spindle ,The Sofia-ATC Series CNC Router machine comes with Water-Cooled spindles produce higher RPM with lower noise levels.With our sealed cooling system and temperature monitoring, the spindle is always running in a dust-free, cool and highly efficient state
3.Servo motor and drive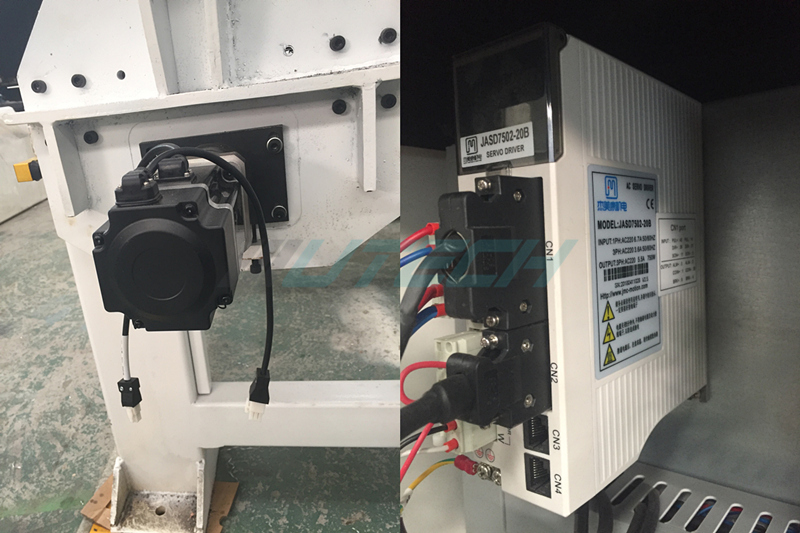 Sofia-ATC series cnc router machine adapt Delta servo motor driver,SHIMPO reducer structure*3
They use position feedback to account for errors and system disturbances unlike open loop systems.Servo drives offer a wide range of advantages for automatic machining systems, including superior positioning, speed, and motion control.With this motor, the machine can realize high-precision machining at high speed.
SHIMPO 1:8 gear reducer install on the driving motor, makes the motor is more powerful, and having a longer time service life.
4. Transmission structures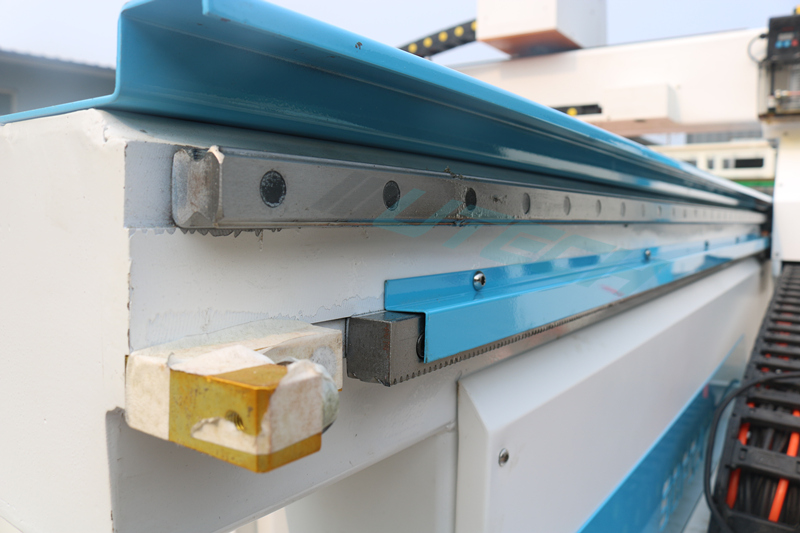 PMI 20 Linear guide+Flange slider+precision 1.25 helical rack
The PMI linear guideway
Low frictional resistance, high precision maintained for long period

High rigidity with four-way load design

Suitable for high speed operation

Easy installation with interchangeability

thus all Sofia series adapt PMI linear guideway.
Rack of Sofia adopts high-precision 1.25 helical tooth rack, which is complementary with the professional motor and professional deceleration device, which runs smoothly, high speed, high precision and low noise.
Adapt PMI 20 Linear guide+Flange slider+precision 1.25 helical rack transmission structures can ensure that Running stably and reliably, working life is long, machine can keep working for long time.
5.Machine head piece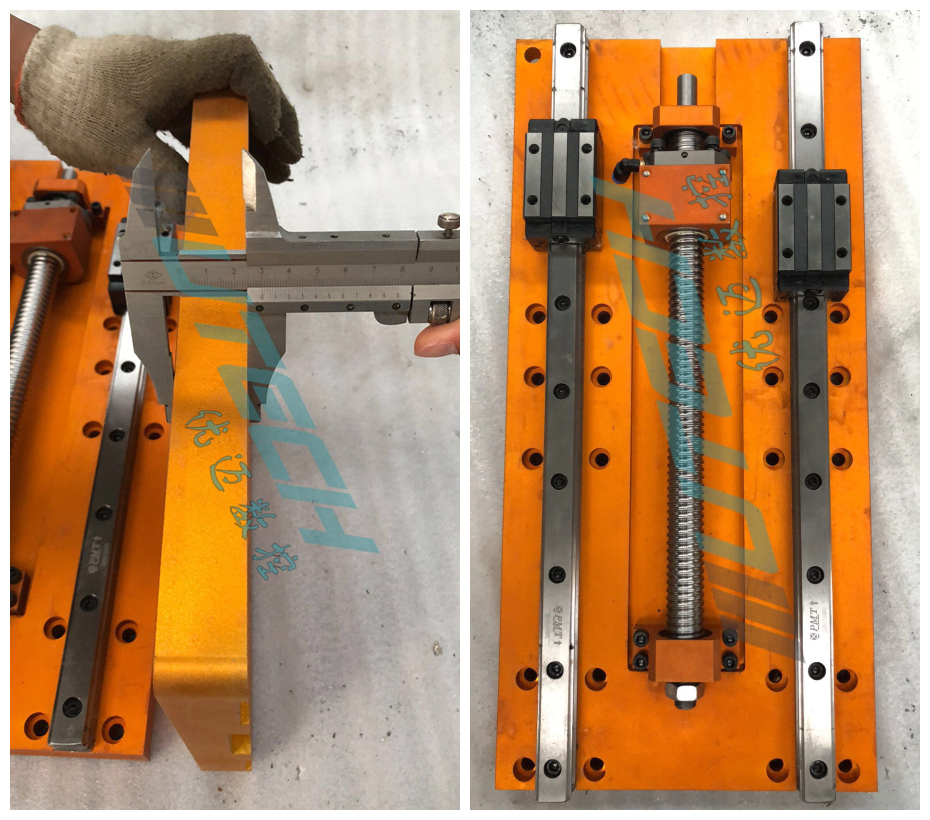 The machine head of sofia Series is made of T6061/6030 aluminum parts by professional CNC machining center.After oxidation surface and low temperature annealing treatment, the machine head is lighter and more durable.
6.NK105 G3 handle controller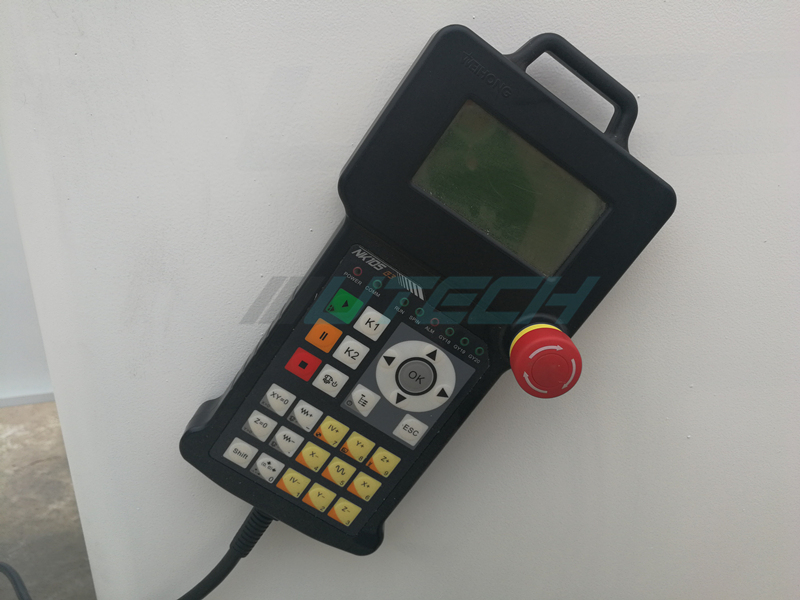 NK105 integrated machine is composed of host system and operation panel. Also called control box, host system integrates system control card, terminal board and other parts, and makes connection with operation panel via 15-core extension cable.
The up and down ends of the back of the control box are used to inlay terminals while left side includes USB interface and DB15 interface. And DB15 interface has already been connected to operation panel when leaving factory. USB interface is for external connection with USB equipment(e.g. USB flash disk).
Also called handheld box, operation panel is similar to handwheel in size, concise and portable,connected with host system via 15-core extension cable. Independent working without distribution cabinet facilitates the machine tool control. And its moving distance is only restricted by length of extension cable.
7.T-slot&vacuum working table+vacuum pump(You can also choose T-slot working table with PVC)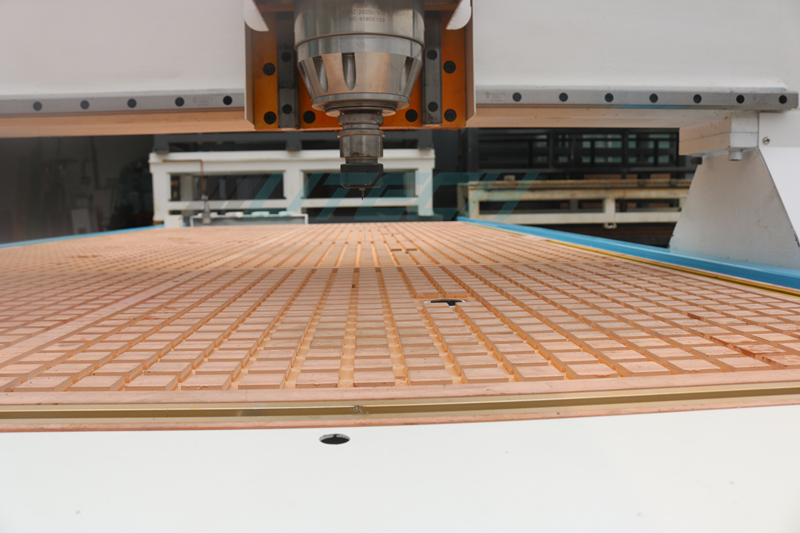 Vacuum table with 6vacuum zones, which can be strong adsorption of materials of different sizes, density, no deformation. No oil vacuum pump, hight suction, me convenient, stable capability.
Popular CNC Router table structures that use a vacuum to hold the working objects are called Vacuum Tables. Besides its firm holding, a vacuum table can also flatten boards and make closed shaped cut-outs more easily without obstructs like clamps on the toolpath.
8.LED light

The whole sofia cnc router mahcine is beautiful and elegant.More importly it has cool visuals.
9. Independent control cabinet
Control cabinet manufacturers in the side of the sofia cnc router machine, easy to operate.
10.4 PCS linear type( back side) and ATC Tool Calibration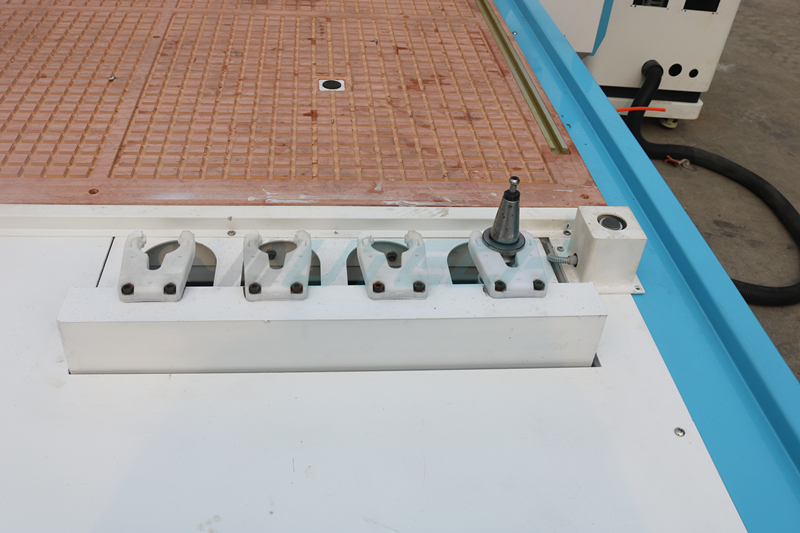 4 PCS linear type ATC machining centers, most using a manipulator tool change,it is more time-saving.
Automatic tool calibration pad allows for easy and accurate Z" zero position for single and multiple tool changes through the program.
And sofia is fully customizable. Options include Oscillating Tangential knife,Vision Registration system which uses a camera and software to eliminate errors while cutting, the Automatic Tool Changer for rapid tool changes while machining,a misting system for use while cutting aluminum and other non-ferrous metals, CAD/CAM software,control system and many more.